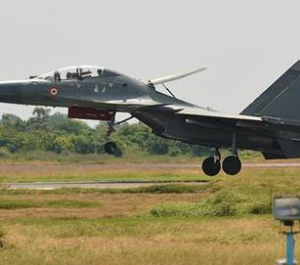 The Indian Air Force (IAF) inducted a squadronof Sukhoi-30 MKI fighter jets armed with BrahMos supersonic cruise missiles, at its Thanjavur Air Force Station.
Five to six SU-30MKI fighter planes with the capability to carry BrahMos missiles would be positioned at the Air Force Station and the full capacity of 18 planes would be reached.
This is also the first Sukhoi squadron of the IAF with BrahMos missiles.
Background
The 222 Squadron, also known as Tigersharks, was raised in September 1969 at Ambala, and was moved to Halwara in 1971. It was deployed in active combat operations in the 1971 war.
Later it was moved back to Ambala in 1975 and from there to Hindon in 1985. The squadron later operated Mig-27 fighters and was 'numberplated' in March 2011.