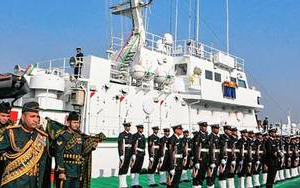 Two Indian Coast Guard Ships (ICGS) — Annie Besantand Amrit Kaur — were commissioned by Defence Secretary at Kolkata.
Annie Besant will be based at Chennai, Amrit Kaur will be based at Haldia.
The ships are fitted with state of the art technology, and navigation equipment, along with Bofors 40/60 guns and 12.7 mm Stabilised Remote Controlled Guns for enhanced fighting efficiency.