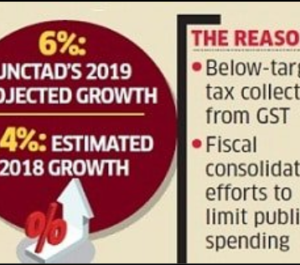 The United Nations Conference on Trade and Development (UNCTAD) in its Trade and Development Report 2019forecasted India's economic growth rate at a 7-year low of 6% in calendar year (CY) 2019 from 7.4% in 2018.
Key Points:
The estimates were reduced due to sharp fall of growth to 5.8% in the first quarter of CY19, the risk of shadow banking in countries such as India and China, lower-than-targeted tax collections and limited public spending.
It also expressed concerns over Sustainable Development Goals (SDGs) and suggested that it needs to rebuild multilateralism around the idea of a 'Global Green New Deal'.
About UNCTAD:
Formation: 30 December 1964
Headquarters: Geneva, Switzerland