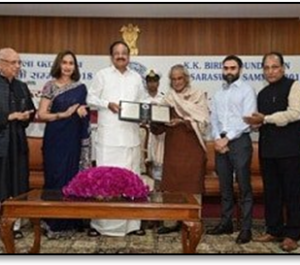 The Vice President, Shri M.Venkaiah Naiduhas honored the Telugu litterateur K.Siva Reddy with the 28th Saraswati Samman for the creation of his famous poetry collection 'Pakkaki Ottigilite' (Turning aside while lying down) in 2018 during an award giving ceremony organized by the KK Birla Foundation in New Delhi.
About Saraswati Samman:
The prestigious Saraswati Samman instituted in 1991 by the K. K. Birla Foundation, is awarded every year for significant contribution in the field of literature related to any of the 22 languages of India included in the Eighth Schedule of the Constitution. The award carries a cash prize of Rs 15lakh, a citation and a plaque
About Pakkaki Ottigilite:
It is an anthology of 104 poems in blank verse (a poetry written with regular metrical but unrhymed lines) published in 2016.
About KK Birla Foundation :
It was established in 1991 by Krishna Kumar (K K) Birla in Delhi. It has instituted three awards in the field of literature to honour writers.