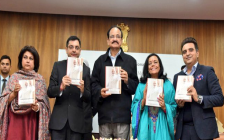 The Vice President of India Shri Venkaiah Naidu released a book titled 'Turbulence and Triumph: The Modi Years' in New Delhi. The book is jointly authored by Rahul Agarwal and Bharathi S Pradhan and is published by Om Books International.

Key Points:
The book is about life journey of Prime Minister Shri Narendra Modi from his days as a young boy r in Gujarat till becoming the Prime Minister of India.
Various successive initiatives launched by the PM like Make in India, Skill India, Swachh Bharat etc was discussed.