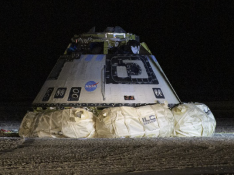 Boeing's Starliner spacecraft returned to Earth, landing safely in the New Mexico desert.
The journey is being hailed as a major achievement despite failing to complete a core objective: docking at the international space station.
Engineers and scientists are now analyzing data from the trip ahead of a plan to send U.S. astronauts to space in 2020. It would mark the first American-launched space travel since NASA retired its space shuttle fleet in 2011.
The trouble began after the Starliner had launched. The capsule took off on top of an Atlas V rocket, made by the United Launch Alliance, from Cape Canaveral, Florida.