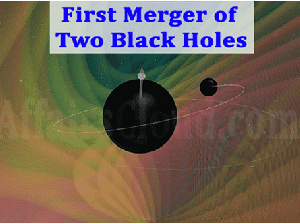 This discovery took place a year after when a gravitational wave (GW) signal dubbed "GW190412"observed by the LIGO and Virgo detectors on 12 April 2019, which actually a sign of merging of two black holes with unequal masses.
This merger took place 2.4 billion light years away.
The difference of masses is so large that the one black hole is 30 times the mass of the sun while the other is 8 times the solar mass
Point to be noted:
The first gravitational-wave event was detected in 2015 namely "GW150914". However, all the systems observed so far have comprised black holes of nearly equal masses. This trend was broken by the observation of the merger of a BBH system on April 12, 2019.
What is Black Hole?
A black hole is a region of spacetime where gravity is so strong that nothing, no particles or even electromagnetic radiation such as light, can escape from it. A black hole can be formed by the death of a massive star.
About LIGO Scientific Collaboration (LSC):
Headquarter– United States
Spokesperson– Prof. Patrick Brady