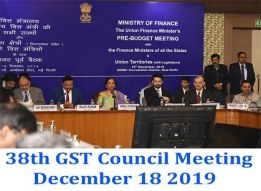 Union Minister for Finance & Corporate Affairs Smt. Nirmala Sitharamanhas chaired the 38th Goods and Services Tax (GST) Council Meeting in New Delhi.
Highlights of 38th GST Council Meet:
The GST council has decided to levy uniform tax on lotterywill be effective from March 01,2020 at 28%.
The council was also decided to give exemption from upfront amount payable by entities in which the central / state government holds 20 % stake on long-term lease of industrial or financial infrastructure plots.
Background
When GST was implemented on 1 July 2017, the states were promised that the revenue loss would be repaid by the Center. The compensation amount was fixed at 14 per cent of the total revenue received in the base year 2016-17.
On 20 September 2019, the GST Council met last time at its 37th
About GST
It is an indirect tax (or consumption tax) imposed in India on the supply of goods and services. Goods & services tax separated into 5 different tax slabs for collection of tax.
It includes,0%, 5%, 12%, 18% and 28%.