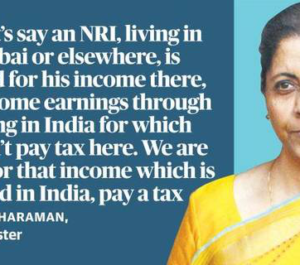 Union Finance Minister Nirmala Sitharaman  provisions introduced in the Budget would bring Indian workers' income in zero tax jurisdictions, like the UAE, into the Indian tax net.
The Finance Bill has proposed three major changes to prevent tax abuse by citizens that don't pay taxes anywhere in the world reducing the number of days that an Indian citizen can be granted non-resident status for tax purposes from 182 to 120; citizens who don't pay taxes anywhere will be deemed to be a resident; and the definition of 'not ordinarily resident' has been tightened.
"The new provision is being interpreted to create an impression that those Indians who are bonafide workers in other countries, including in Middle East, and who are not liable to tax in these countries, will be taxed in India on the income that they have earned there.