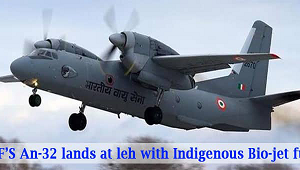 Indian Air Force's (IAF) successfully operated AN-32aircraft poweredwith10%blend of Indian bio-jet fuel. This is the 1st time both engines of the aircraft were powered by bio-jet indigenous fuel where the aircraft took-off from Kushok Bakula Rimpochee Airport, Leh. Before undertakingoperational flight to Leh, the flight was tested along with performancevalidation at Chandigarh Air Base.
Key Points:
The test was conducted by a team of pilots from the Aircraft and Systems Testing Establishment (ASTE), Bengaluru, Karnataka.
About Indian Air Force(IAF):
Founded: 8 October 1932.
Headquarters:New Delhi.