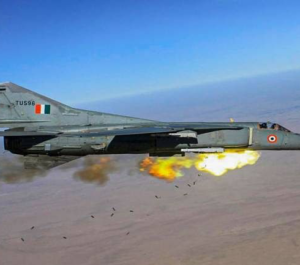 The last of the iconic MiG-27 (Mikoyan MiG-27) fighter jet aircraft was decommissioned from the Indian Air Force (IAF) at Jodhpur base in Rajasthan. The aircraft served the IAF for over 3 decades (30 years). The Jodhpur air base previously had the squadron of 7 MiG-27.
Key Points:
The aircraft served during the 1999 Kargil War. It is known by the name 'Bahadur' in India.
MiG-27 was procured in the 1980s from the then Soviet Union(SU).  The aircraft has the single most powerful engine in the world.
The decision to decommission the aircraft was taken after series of MiG-27 crashes. Recently MiG-27 crashed near Jodhpur on March 31, 2019 and on September 4, 2019. It also faced many technical glitches.
Currently No. 29 Squadron is the only unit in the IAF which has been operating MiG 27 Upgrades.
About Indian Air Force(IAF):
Founded- 8 October 1932.
Headquarters- New Delhi.