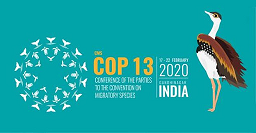 The 13thConference of Parties (COP) of the  Convention on Conservation of Migratory Species of Wild Animals is to be held in India between February 17, 2020 and February 22, 2020. The Conference is called the CMS-COP-13 in short. The Conference is to be hosted by the Ministry of Environment, Forest and Climate Change on behalf of India.
Highlights
India has been designated as the President of the Conference for the next three years. The representatives from 130 countries are to participate in the conference. The theme of the conference is as follows.
Theme: Migratory species Connect the Planet and we welcome them.
The mascot designated for the CMS COP-13 is Indian Bustard.