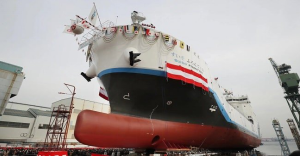 Kawasaki Heavy Industries Ltd,a Japanesepublic multinational corporation has launched the world's 1st ocean-going liquid hydrogen carrier ship designed to carry liquid hydrogen at minus 253 ° C produced in south coast of Australia to unload in Kobe, Japan.
The liquid hydrogen carrier tank has been named as 'Suiso Frontier' at a ceremony held at Kobe Works yard, Japan.
Key Points:
Measuring a total length of 116 m, width 19 m, depth 4.5 m at full load, gross tonnage 8,000 t. propulsion by Diesel engine electric power generation, and voyage speed of13 knots, it is scheduled to be completed in late 2020.
Hydrogen can be produced in a number of different ways, including using water and electricity, and then stored and shipped and re-used to generate power, allowing countries with little space for wind and solar equipment to still receive carbon-free power.