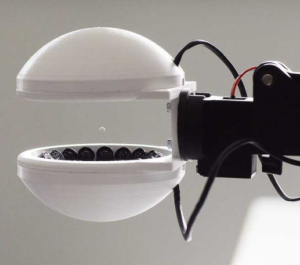 Scientists have designed a robotic gripperthat  uses sound waves to move small and fragile objects, without touching them.
The prototype robot developed by the researchers from ETH Zurichin Switzerland comprises of two semi-spheres, and resembles a pair of headphones.
The spheres are connected to a circuit board carrying microchips. A small sphere hovers between the two semi-spheres, held up by ultrasound waves.
"This phenomenon is known as acoustic levitation.
Ultrasound waves generate a pressure field that humans cannot see or hear.