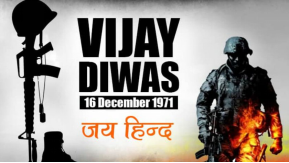 Vijay Diwasis celebrated on December 16 every year to commemorate India's victory over Pakistan in 1971.
India had defeated Pakistan in this war. Another fact is that Bangladesh was born on this day. Bangladesh celebrates its independence day on December 16 every year.
What is Vijay Diwas?
The Government of India decided on December 03, 1971, that India would go for war with Pakistan to save Bengali Muslims and Hindus. This war was fought between India and Pakistan for 13 days only.
But, the Pakistani army surrendered before India with 93,000 soldiers. It was the Indian Army's one of the biggest victories ever made against Pakistan.