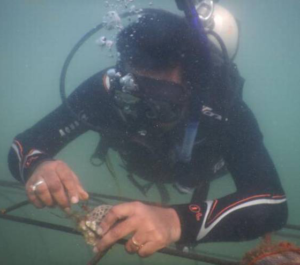 The Zoological Survey of India (ZSI), with help from Gujarat's forest department, is attempting for the first time a process to restore coral reefs using biorock or mineral accretion technology.
A biorock structure was installed one nautical mile off the Mithapur coast in the Gulf of Kachchh on January 19.
Biorock is the name given to the substance formed by electro accumulation of minerals dissolved in seawater on steel structures that are lowered onto the sea bed and are connected to a power source, in this case solar panels that float on the surface.
In 2015, the same group of ZSI scientists with the support of the Gujarat forest department had successfully restored branching coral species (staghorn corals) belonging to the family Acroporidae (Acropora formosa, Acropora humilis, Montipora digitata) that had gone extinct about 10,000 years ago to the Gulf of Kachchh.