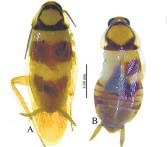 The Allacta Kalakkadensis species of cockroach found  in Kalakkad-Mudanthurai region.
A new cockroach species has been discovered by scientists of the Southern Regional Centre, Zoological Survey of India, at the Western Ghats, a region with high species richness, and high percent endemicity.
India is home to 182 cockroach species. With the new finding there 56 species in Tamil Nadu.