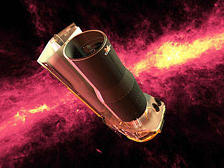 The National Aeronautics and Space Administration (NASA) has decommissioned its Spitzer Space Telescope. The telescope which was used to study the universe by detecting cosmic infrared radiation for more than 16 years was first launched in 2003.
Key points:
Spitzer was planned to be decommissioned in 2018 in anticipation of the launch of the James Webb Space Telescope (JWST), but as JWST launch mission was postponed spitzer was given 5th and final extension till 2020.
It detected the most distant galaxies ever detected with the light from some of the cosmic bodies travelling for billions of years to reach the telescope. It had also found a previously undetected ring around the planet Saturn.