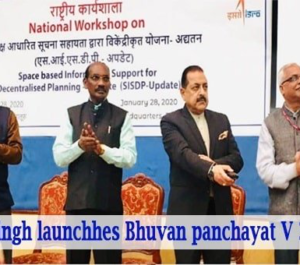 Jitendra Singh, Union Minister of State (Independent Charge) Ministry of Development of North Eastern Region, MoS PMO (Minister of State for Prime Minister's Office), Personnel, Public Grievances and Pensions, Atomic Energy and Space launched the Bhuvan Panchayat Version V 3.0 web portal in Antariksh Bhavan Bengaluru, Karnataka to support Gram Panchayat Development planning in the country.
The Minister released the technical documents related to SISDP(Space Based Information Support for Decentralised Planning Update) – Update Project.
About Bhuvan Panchayat V 3.0 web portal:
The web portal has been developed by National Remote Sensing Center (NRSC), Hyderabad, Telangana.