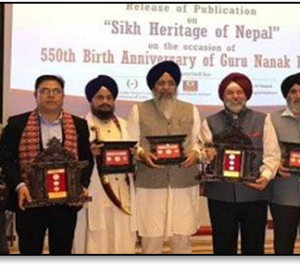 New Eonomic Policy & Govt. Sector
Nepal Central Bank issued 3 coins bearing Sikh emblem to commemorate 550th birth anniversary of Guru Nanak Dev
The Governor of Nepal's Central Bank 'Nepal Rastra Bank (NRB)',Chiranjibi Nepal & Indian Ambassador Manjeev Singh Puri have jointly released three coins(100, 1000 and 2500 Nepali rupees) bearing the Sikh symbol to commemorate the 550th Birth Anniversary of Guru Nanak Dev. These coins will be available in the market from September 30, 2019.
Key points:
A book titled "Sikh Heritage of Nepal" based on Sikh heritage of Nepal was also launched in the program. This book has been published by BP Koirala India-Nepal Foundation in association with the Indian Embassy in Nepal.
Guru Nanak dev :
He was Nirguna Bhakti saint and social reformer was born at Nankana Sahib (formerly known as Rai Bhoi Di Talwandi) near Lahore,Pakistan in April 15, 1469. He was the first Sikh Guru and founder of Sikhism. The verses composed by him were collected in Adi Granth, written in Gurmukhi script.Guru Nanak Jayanti festival celebrates the birth of Guru Nanak.
He is said to have visited Balaju area on the outskirts of Kathmandu,Nepal five hundred years ago.
The 550th birth anniversary of Guru Nanak Dev will be celebrated on 12 November, 2019.
About NRB:
Founded: 26 April 1956
Headquarters : Kathmandu, Nepal