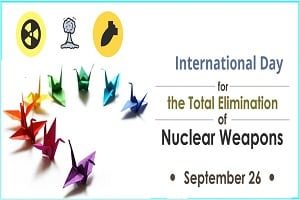 Important Days
President Ram Nath Kovind Inaugurates India Water Week, 2019
President Ram Nath Kovind inaugurated the sixth  "India Water Week-2019" being organised with the theme of "Water cooperation-coping with 21st-century challenge' at Vigyan Bhawan in New Delhi.
The President emphasised on the need to store and capture the rainwater by utilizing existing reservoirs, dams, other water bodies.
International day for the total elimination of nuclear weapons- September 26, 2019
Itwas observed on September 26, 2019. The day creates public awareness on nuclear disarmament matters, educates people on the potential threat by nuclear weapons and stresses the need for their elimination.
World Environmental Health Day – September 26, 2019
It was observed on September 26, 2019under the theme "Climate change challenges, time for global Environmental Health to act in unison".
World Maritime Day 2019 – September 26
It stresses the importance of safety, maritime security, and marine environment and marks the contribution of international maritime industries towards the economy of the world. The theme for WMD 2019 is "Empowering women in the maritime community"
World contraception day – 26 September, 2019
It was observed throughout the world to create awareness about the contraceptive methods available and enable the young people to make informed decisions regarding their sexual and reproductive health.
World Organisations – Pacts and Summits
16th Global SME Business Summit for 2019 held in New Delhi
The 16th Global SME(Small and Medium Enterprises) Business Summit for 2019 was held in New Delhi under the theme "Making Indian MSMEs Globally Competitive" on September 24-25, 2019. The summit organized by Ministry of Micro, Small and Medium Enterprises (MSME) and Confederation of Indian Industries (CII) was inaugurated by union minister for MSME and Road Transport & Highways Mr Nitin Gadkari in the presence of Arun Kumar Panda, Secretary, MSME and others.
Key Points:
It was attended by more than 500 delegates from over 15 countries.
The target of the government is to increase MSME's share of 29% of GDP (Gross Domestic Product) to 50% in the next 5 years and raise its export contribution from 49% to 60%.
About CII:
Founded: 1895
Headquarters: New Delhi
Sports and Games
Indian duo of Pankaj Advani and Aditya Mehta clinched IBSF World Snooker Team Championship 2019
The Indian duo of Pankaj Advaniand Aditya Mehta clinched International Billiards & Snooker Federation (IBSF) World Snooker Team Championship 2019 held in Mandalay, Myanmar by defeating Thailand's C.Pongsakorn and D.Poramin by 5-2.
Myanmar Open Billiards 2019which consisted of the 150 Up World Billiards Championship and World 6Reds, World Team Snooker championships 2019 was held from September 9-25, 2019 and was hosted by Myanmar Billiards & Snooker Federation (MBSF).
It was the 23rd world title for Advani and the first title for Mehta.
Books and Authors
Pranab Mukherjee launches the book titled 'Reset: Regaining India's Economic Legacy' written by BJP MP Subramanian Swamy
Pranab Mukherjee, the Former president of India has released a book entitled 'Reset: Regaining India's Economic Legacy' penned by BJP MP (Bharatiya janata party -member of parliament) Subramanian Swamy in New Delhi.
Key Points:
The book documents economic growth of India over the years & provides the master solutions for future growth.
The book has been published by Rupa Publications India.
Awards and Honours
PM Narendra Modi receives Global Goalkeeper Award
Prime Minister Narendra Modi received the 2019 Global Goalkeeper Award.
He received the award for Swachh Bharat Mission from Bill and Melinda Gates Foundation.
Swachh Bharat Mission was launched on October 2, 2014, aims to accelerate the efforts to achieve universal sanitation coverage in the country.
Global Goalkeeper Award is a "special recognition" by the Bill and Melinda Gates Foundation.
The award celebrates a political leader who has "demonstrated their commitment to the Global Goals through impactful work in their country.
Rajasthan's Payal Jangir becomes the first Indian to receive the Changemaker Award 2019
Rajasthan's Payal Jangir, aged 17, became the first Indian to receive the Changemaker Award 2019at the Goalkeepers Global Goals Awards 2019 presented by the Bill and Melinda Gates Foundation at a ceremony held in New York, United States.
Key Points:
She hails from Hinsla village, Rajasthan and was awarded for her work towards the abolition of child marriage in her village and other neighbouring areas.
She is the President of her village's Children's Parliament (Bal Panchayat).
Prime Minister of India, Mr Narendra Modi was also conferred with Global Goalkeeper' Award 2019 by Bill and Melinda Gates Foundation for Swachh Bharat Abhiyan (SBA).
Appointments – Who is Who?
Kristalina Georgieva is the IMF's new chief, becomes 2nd woman to get the post
Bulgaria's economist Kristalina Georgieva (66)has been elected as the new head of the International Monetary Fund (IMF). She will be the second woman chief of the 189-member IMF & will take over as Managing Director of the IMF on October 1, 2019. She will replace Christine Lagarde, who resigned from her post after being elected president of the European Central Bank (ECB).
Key Points:
Prior to this, she was the Chief Executive Officer of the World Bank in January 2017. She was also the interim president of the World Bank Group from February 1 – April 8,2019.
About IMF:
Formation: 27 December 1945
Headquarters: Washington, D.C. U.S.
It  is an international organization which promotes international monetary cooperation and provides policy advice and technical assistance to help countries build and maintain strong economies.It presently has 189 member countries.